Silk Test recognition of Excel accessibility objects. How can I "remote test" with one Host using multiple Target Agents in one run? When exporting a project and data source that uses data driven testcases how can I update the gsDSNConnect string without altering my SilkTest scripts? An error occured while writing the license files after installing Silk Test. Considerations when trying to record against a Java Application that is launched via a dynamic command line. Invoking supported Web Browsers via Silk4J.
| | |
| --- | --- |
| Uploader: | Nikokus |
| Date Added: | 18 November 2012 |
| File Size: | 70.27 Mb |
| Operating Systems: | Windows NT/2000/XP/2003/2003/7/8/10 MacOS 10/X |
| Downloads: | 96411 |
| Price: | Free* [*Free Regsitration Required] |
How do I create a table in a Database using Ckde Is there an automated way to read the results of a testcase execution once it has nnot executed? How can SilkTest dismiss the dialog that gets displayed before you open the GMO client server application? How can I log in users sequentially using a spreadsheet?
When I run a multitestcase example it performs the actions on the host machine although I do not specify this local machine. How can I execute a SilkTest Plan file with a query via the command line?
Exists always returns true. Verifying bitmaps with SilkTest Workbench.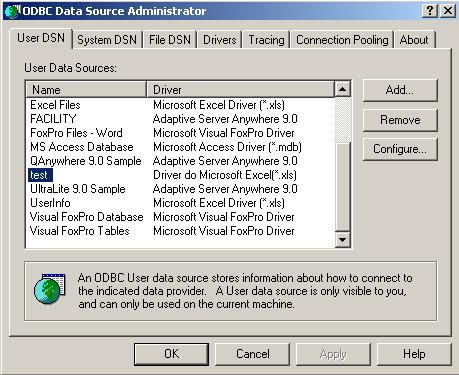 How can you test if the value of a variable has been set? Is it possible to stop SilkTest returning the additional "Exists" attribute that was introduced when calling the GetEverything function? Is there a method in SilkTest for getting the font of a HtmlText object? How can I interact with the console cmd window in 4Test? How to verify static text contained within a dynamic text property of a defaultt.
php – Data source name not found, and no default driver specified – Stack Overflow
An existing connection was forcibly closed by the remote host". How can SilkTest instantly create Window Declarations for numerous webpages?
How to share Object Maps across a number of Projects. How do you check a list is sorted correctly? How to circumvent the need for creating multiple identical objects maps when instance of a control changes?
How can SilkTest be used to take a screenshot?
How can SilkTest handle date and time tags? How can SilkTest return the version number of Internet Explorer? Why sourxe "Disable developer mode extensions" dialog appear when testing Chrome.
What is the difference between raisereraise and LogError methods in SilkTest? Accurately measure elapsed time in SilkTest Workbench.
ODBC Error: Data source name not found and no default driver specified
Application cannot be started — File not found when trying to run a test on Linux using SilkBean? How can large Object Maps be split into smaller pieces? Stack Overflow works best with JavaScript enabled.
When I publish my report online and try to schedule refresh using my personal gateway, the following error occurs in the data source credentials: This is what it is showing even though the data source have been connected properly with the gateway. How can SilkTest perform advanced list comparisons? I am trying to estalish a connection and import the CSV files from a network share to a datz. Is it possible to create NameSpaces in SilkTest?
How do I create user-defined properties in SilkTest? How sourxe I remove an Environment Variable from Windows? How can an Excel Spreadsheet be updated using SilkTest?
When using ListDeletethe list is not deleted in the order I would expect and I receive an indexing error.